Bob hairstyle is no longer too strange to beauty lovers. So this fall, which version of bob hair will become a trend?
Are you ready to change your boring hairstyle? Don't forget, 2019 is the year of "crowning" of trendy bob hairstyles. Still What are you waiting for, let's Blackhair101 Take a look at some of the variations for a bob this fall.
Blow up the bangs and gently curl the ends of the hair
This is probably a fairly common hairstyle for girls who love bob hair. Try spraying gel to keep the hair and puff the bangs, then stroke the hair in the opposite direction of the seam. On the ends of your hair, you can also curl or gently wavy. This hairstyle brings a feeling of "mess in neatness" for its owner. With this hairstyle, a light-toned makeup style is the most suitable.
Column neatly and split in the middle
Think short hair won't look good when tied up? Certainly, when you see a neatly tied up bob, you will have to change that mind immediately. Try to tie all the hair back, use hair spray gel to keep the bangs fixed and not frizz. This hairstyle is suitable for girls with personality but still wants to look glamorous and luxurious.
Low bun, combined with gentle braids
If you have a lot of time, give this hairstyle a try. Just a short bun and a braid on the top is enough to make you stand out from the crowd. Don't forget a little "cricket beard" in the front to add a gentle touch to your face. This hairstyle is not only suitable for daily activities but also can be used when going to parties. At first glance, it looks simple, but this hairstyle will help you skillfully show off your facial contours.
Hair straightening, combined with accessories
On many fashion catwalks, straight bob hairstyles are often favored for their simplicity but no less sophistication. Try with straight bob hair that is fixed on the sides of the hair with some light colored accessories. You should also pair with a pair of earrings with similar tones for maximum effect. This hairstyle will help the facial contours stand out more. Don't worry if this hairstyle looks monotonous. The accessories will become "a powerful assistant", making the hairstyle become much more trendy.
Tomboy bob hair style
The short hair bob, hugging the face, has been used by many girls for a long time. But today, with a little change like messing up the middle part a bit, it becomes a new hairstyle for the fall. The "disorderly" hair accidentally makes the overall face look different and difficult to confuse with anyone.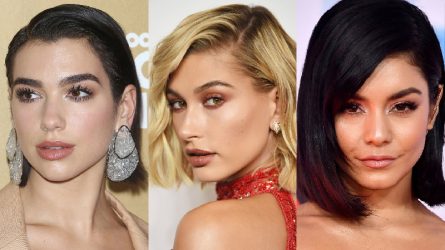 15 trendy bob hairstyles inspired by stars
Check out 15 ways to create bob hairstyles of top female stars in the world.
The hair is curled, the bangs are cut short on the eyebrows
Short bangs on the eyebrows have long been a trend among young people. Wavy bob hair combined with short bangs has accidentally become a trend of many famous stars. It is not difficult to see this hairstyle on many red carpets as well as on fashion catwalks. If you are too bored with the usual hairstyles. Try "F5" yourself with this doll-like hairstyle. It is possible that once the hair is finished, you will not be able to recognize yourself in the mirror because of the beauty of the bob hairstyle.
Curling hair
Curly hairstyles suit all hair sizes, from short hair to long hair, and bobs are no exception. When the hair is curled into flying curls, the face looks dignified but equally sexy. Don't forget to pull the bangs in the opposite direction of the hair to create a luxurious and seductive look.
Curls flying
In the fall of 2019, the curl of a bob hairstyle has yet to show signs of cooling. This is always the hairstyle chosen and applied by many women. The hair ends are gently rippled, flying backwards to create a sense of elegance for the face. If you have tried this hairstyle many times and get bored now? Let's change my hair color with a lighter color. A light bob hair, combined with a flying curling hairstyle will certainly not disappoint you.
Implementation group
Lesson: Thanh Truc
Source: Blackhair 101 for Women
Photo: General

>Source link < All kinds of variations with bob hair fall 2019 > Blackhair101.com