December is colorful with a series of popular beauty trends and brands "launching" new products with many outstanding colors.
Beauty news in mid-December this week will bring you the latest information on beauty trends as well as what products will "serve" for girls in the upcoming festive season. Don't let yourself become late, let's go Blackhair101 update what the beauty world around the world is "hunting" for the last days of the year.
Chanel launches the Rouge Allure Camelia lipstick collection
Chanel has never disappointed fans by continuously releasing a series of new products during the past time. In the early days of 2020, this brand continues to give girls a new look with the Rouge Allure Camelia lipstick collection. More specifically, this comeback, Chanel has a combination with the talented actress of the movie Twilight – Kristen Stewart as the representative face.
With two product lines, lipstick and lipstick are available in 8 different colors. In addition, Chanel Rouge Allure Camelia has a much better breakthrough than Rouge Allure and Rouge Allure Velvet with more inner nutrients and the lip color becomes smoother and smoother thanks to the ability to combine lipstick and lip liner have the same color tone.
Do not let the beauty believers wait too long, the Rouge Allure Camelia lipstick will be launched at CHANEL's Beauty Week at Boutique Saigon Center from January 3 to 9.
Kendall Jenner "catches" the beauty trend with outstanding brown hair
In the latest video shared on Kendall Jenner's personal instagram, we can see that her new hair color has received a lot of praise from the fan community. It is not difficult to see that this color looks extremely simple, but not boring and very luxurious.
Although brown hair color has many dyes such as golden brown, tea brown … but chestnut brown hair is always the choice of the discerning girl because of its diverse applicability. However, we should also have a full hair care regimen to ensure the healthiest hair quality and correct color. At the same time, a healthy, fluffy hair is enough to make our face stand out and attract the eyes of everyone around.
Tiktok publishes some of the most viewed beauty video clips in 2019
We can easily find a variety of fun and interesting video clips as well as makeup tutorials, beauty tips or new product reviews … on the Tiktok application platform. To prepare to welcome the new year, Tiktok has announced the list of beauty videos that are loved and most viewed in 2019. Surely the clips below will not make you disappointed with many makeup styles, hairstyles … extremely interesting and unique.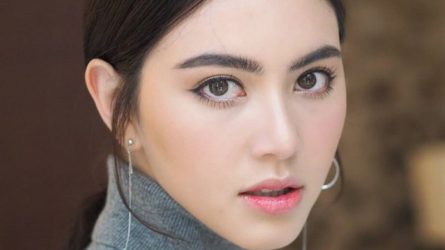 Let's learn 6 makeup tips of her "ghost" Mai Davika
What kind of makeup has made Mai Davika beautiful, attractive and seductive in the eyes of everyone around?
Fenty Beauty is launching a mini makeup set and outstanding eyeshadow
Now we can easily carry a full range of makeup tools when traveling without fear of them taking up too much space in luggage. Fenty Beauty has officially launched a mini make-up consisting of this brand's famous lip gloss and highlight.
Not stopping there, this year's festive season, Fenty also participates in the beauty race with 8 colors of Snap Shadows which are extremely attractive. They are suitable for a variety of makeup styles from everyday use to luxurious parties.
Let's look forward to the exciting return of this brand at Sephora around the world on December 26, with Blackhair101!
Implementation group
Lesson: Thanh Truc
Source: Blackhair 101 for Women
Photo: General

>Source link < Beauty news: Chanel launches outstanding lipstick collection for the festive season > Blackhair101.com