Summer is coming to the end, the opportunity to have fun by the beach and romantic beaches is not much.
But before taking advantage of these days of fun, you should note that the high temperature will cause many problems for your skin, hair and makeup. Join Blackhair101 to refer to 4 useful beauty tips under the sweltering sun of the late summer sun.
Maintain the base layer
Sometimes it was so hot that after taking a shower, I felt sweaty, and before I got out of the house, my makeup had started to flow. At home, if you feel your face is starting to sweat and your skin is greasy, you can use the dryer to dry your face with the "cold" button.
If your room is always cooled down by air conditioning, you can also hardly avoid the heat completely when the distance from home to work is enough to ruin the makeup. In that case, a makeup setting spray is for you. After finishing the foundation layer, spray the setting spray and wait to dry before moving on to the next makeup step.
Hair is dry and lint
Pool water is full of chlorine and sea salt that can be extremely damaging. Hair damaged by salt and chemicals can become dry, fibrous, brittle, and tangled easily. One beauty tip for you is to bring a hair spray so you can add moisture to your hair at any time.
If you don't want to invest in a hair conditioner for just a few uses, you can easily make your own hair spray. Use a travel size spray bottle, fill with water with about two teaspoons of conditioner you are using, shake it up and you have a very convenient hair care spray.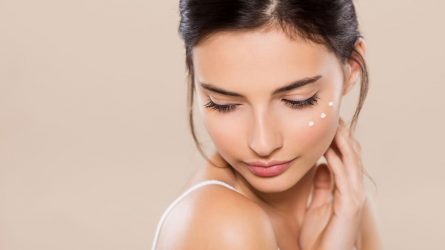 6 BB Cream foundation creams for a "spotless" foundation
Since the boom until now, BB Cream foundation has never been "out of date".
If you like makeup when you go to the beach
Women always want to look as beautiful as possible. However, a hot and humid environment at the beach or swimming pool is not an ideal place for makeup. Using BB Cream for foundation, a bit of creamy blush and lipstick tint are your beauty tips. Creamy or tinted products will look natural and will also last longer. Besides, you can mix sunscreen with BB cream to make the cream thinner, combining sun protection.
Curling hair without curling machine
"Beach waves" – beach curls get that name because our hair tends to be slightly curly because it is dry when exposed to seawater. You can easily create this curly hairstyle without the need for a curling machine. Spray some sea salt spray on your hair, then braid your hair or a bun. Then wait for the hair to dry or blow-dry it with a dryer. When your hair is completely dry, your hair will have a natural curl without damaging the heat directly from the curling machine.
See more:
Top 5 foundation creams for oily & acne skin
5 steps "first aid" when the skin is allergic to cosmetics
Implementation group
Lesson: Thục Linh
Source: Blackhair 101 for Women
Reference: Makeup
Photo: Reference

>Source link < Beauty tips and skin protection in the late summer vacation > Blackhair101.com