Which dyed hair color will be the perfect choice for short-haired girls this New Year?
The Lunar New Year atmosphere is bustling all over the streets. At this point, everyone is busy shopping for themselves. As a woman, besides lipstick, hair color is also a problem for girls, especially short-haired girls. Let Blackhair101 suggest some trendy hair colors in 2019 just for you.
Coral orange
In the past few years, coral orange has become popular and popular with many people. This color tone is widely used from eyeshadow, lipstick to hair color.
Purple smoke
The purple color always hides an unusual charm that makes it hard for women to resist. This is also the color of dyed hair that is especially popular with girls with personalities. However, if you're afraid purple will stand out too much, try a trendy smoky purple shade right away.
Smoky gray
If you are bored with dark dyed hair tones, think light gray like smoky gray. This is a tone that can lighten your skin tone regardless of skin tone.
Brown-skinned girls should also not worry, hair dyed smoky gray helps look healthier and more dynamic.
Pastel pink
Are you a girl who loves a feminine style but still wants to stand out? Pastel pink hair color will fulfill your desire. This is a color tone that gives a sweet and attractive look. Strawberry pink is quite prominent, so it is very suitable for girls with modern and youthful styles.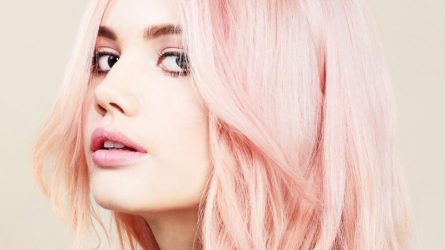 Pinky Hair – Beautiful hair color for a trendy romantic lady
This Tet, do you dare to "transform" your appearance, become a trendy romantic girl with Pinky Hair?
Blue
In the list of beautiful dyed hair colors for short-haired girls, it is impossible not to mention trendy blue. This is a rather strange and outstanding color tone.
Since the dark blue color is similar to black, the hair will be in a gentle style at night. On the contrary, daylight highlights blue hair to make you more attractive.
Platinum
This dyed hair color is probably no stranger to beauty followers. The world famous stars all love the platinum color. This tone seems to be born for short hairstyles.
If you want to "transform" to change your style from gentle to personality, try this hair color!
–
See more:
Choose a dyed hair color that matches your skin tone
Will the "luxurious" platinum dye be "hot" again?
Implementation group
Lesson: Lan Thao
Source: Blackhair 101 for Women
Photo: General

>Source link < Change your look with trendy hair colors for short-haired girls > Blackhair101.com