Essential if you only have 5 minutes (or less) to style your hair before going to work.
Did you notice that the braids are getting more and more complex? DNA braids, wreath braids, zippered braids … Although they may look fancy, you can't avoid the severe frizz when you wake up the next morning. Surely this is not something girls want to encounter. In days when you only have about 5 minutes (or less) to consider what you should do with your hair, don't waste time thinking but try braiding a messy fishtail. It might look flattering, but the mess was purposeful.
Don't worry if your braided hairstyle will take you a while. With 5 simple steps below, you will have a gentle yet extremely delicate fishtail hairstyle.
Step 1: Create hair texture
Soft, silky hair is not an ideal condition for this girly braided hairstyle. So the first thing you need to do is treat and give your hair a new texture.
Spray hair from base to tip with dry shampoo.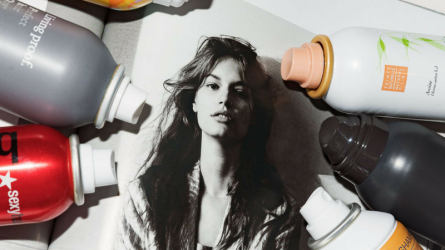 Top 10 dry shampoo products for dyed hair
With these 10 dry shampoo products, you will no longer have to worry about losing color because you have to wash your hair regularly.
This will create a matte texture, leaving the hair smooth but not slippery when styling. This is especially helpful if you've recently washed your hair – when it is in a slick condition.
Step 2: Tie the ponytail
Pull all your hair to one side and tie it in place with a transparent elastic. If you want your braid to be behind you can keep the hair on the nape of the neck.
Step 3: Divide hair
Divide your ponytail into two evenly spaced clusters on either side.
Step 4: Tet hair
Take a small portion of hair from the left edge of the left clump, pull this part of hair upwards and through the right strand. The size of this section depends on the thickness of your hair. Usually they are about a quarter thinner than the hair cluster.
Do the same for the hair on the right side. Continue braiding like that down all ends of hair.
Step 5: Perfect the hairstyle
Once you have braided all your hair, fix the tail of your fish with the elastic.
Then cut the clear elastic that was used to tie the ponytail at first.
Gently pull your braids to the sides to create a gentle, loose braid.
To add flair or upgrade to this hairstyle, you can add a few small accessories like a scarf or hairpin. You've got a chic fishtail braid.
–
See more:
Curly hair with 3 simple hair curls at home
Minutes of transformation with beautiful and creative hairstyles
Implementation group
Shiny Children
Source: Blackhair 101 for Women
Photo: Synthesis, Video: Christen Dominique

>Source link < Guide to braid a strange and beautiful fishtail within 5 minutes > Blackhair101.com