Instantly learn hair care tips that have been proven by top experts.
Beauty hair care secrets are drawn by hairstylists from their experience working with many clients. Please join Blackhair101 to refer to those secrets in this article!
Condition your hair before exercising
The salt in sweat released when you exercise can cause dry hair. Hair stylist and OUAI brand founder Jen Atkin recommends using hair care products before entering the gym to minimize the risk of damaged hair.
In addition, Jen also shares her own secret that is to apply a thin layer of hair mask before exercising, then rinse in the shower. The radiant heat helps the nutrients go deep into the epidermis.
Hair dye twice daily
Chad Kenyon, a Los Angeles celebrity hairstylist emphasizes the importance of moisturizing with dyed hair: "My golden rule is that every time you moisturize your face, remember your hair. I often use a few drops of lotion to gently stroke from body to tip to make my hair look softer and more shiny.
How to create a light curly hairstyle
The founder and creative director of Wonderland Beauty, Michael Angelo, has the secret of creating an easy, light-curly hair overnight. That is, before going to bed, you spray enough sea salt to style your hair. Then, you curl your hair into small buns so that it is comfortable to lie down. As a result, the next morning your hair will be curled slightly without damaging it with heat.
Naturally curly hair – Definitely summer hairstyles
Natural curly hair is the ideal hairstyle, extremely suitable for summer travel.
How to use a dry conditioner for extra shine
When experiencing cold heat, the hair cuticles close, "holding onto" the nutrients from the cosmetics inside. Knowing this rule, hairstylist of singer Alicia Keys, Tippi Shorter recommends that you keep dry conditioner in the refrigerator to both help hair curl and bring shine during the long day.
Besides, the rule of cold heat can be applied when using regular conditioner. Before rinsing, you clean the soap on your hair with warm water to expand the hair cuticles, allowing the nutrients to go deep inside. After a few minutes, rinse your hair with cool water so that the cuticles "lock in", your hair will become soft and smooth.
Make your own hair masks at home
Sometimes the best hair care products are right in your kitchen. Celebrity stylist Cynthia Alvarez shares some hair mask recipes you can make at home:
Thinning hair: Mix unsweetened cocoa powder, milk, jojoba oil, coconut oil and avocado oil in equal proportions to make your hair stronger, grow faster and without breakage.
Dry hair: Dry hair is usually brittle and split ends easily. To overcome this, mix a mask of one teaspoon of honey, one teaspoon of coconut oil, and one egg yolk.
Oily skin: Oily hair makes you "miserable" more in the summer and makes hair appear unsightly dandruff. However, you can completely make the situation less severe with a facial mask containing apple cider vinegar, honey and lemon juice. Note that the acid concentration in vinegar and lemon is high, so you need to dilute it with a solution of 1.2 teaspoons of water to prevent skin irritation.
Curls: To keep curls in order and free of lint, use a recipe for Greek yogurt, honey, olive oil and vitamin E weekly. Especially after days of pollution, curly hair can become frizzy easily, use this mask for 15 minutes to regain hair immediately.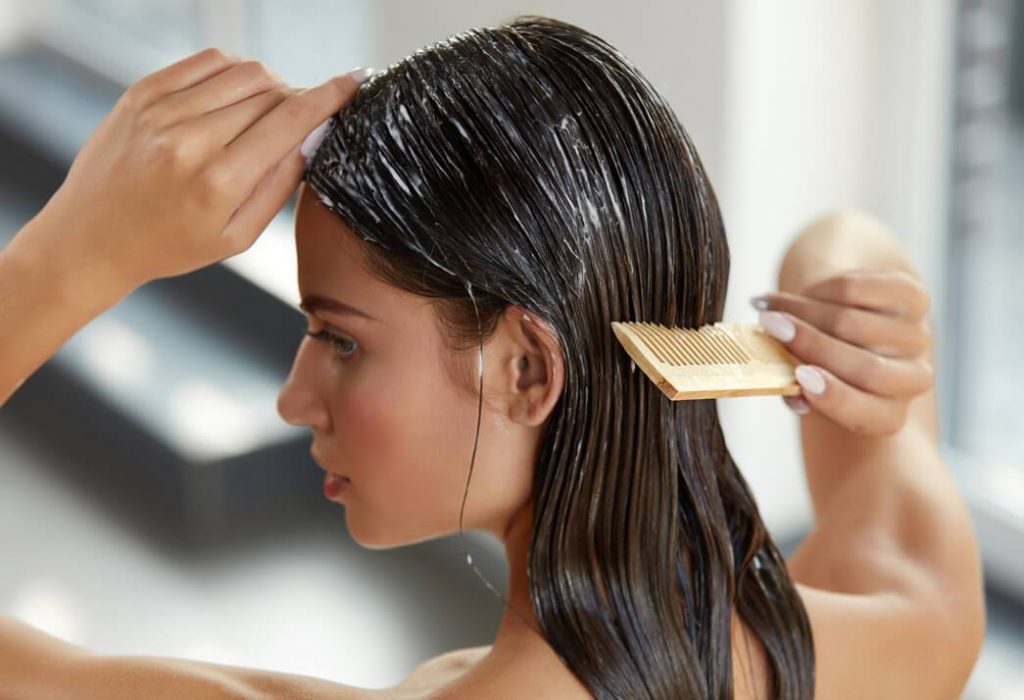 Fix mistakes when using conditioner
Hair stylist Charles Worthington points out that the most common mistake people make when using conditioner is to not dry or reduce their hair, but just run conditioner on wet hair after washing it. Excess water in the hair will prevent nutrients from entering the cuticles. To overcome this mistake, you should use a dry cloth to absorb the water and then use the conditioner, just for the product to fully promote its effect without wasting.
–
See more:
Beautiful hair ideas from Instagram by famous hairstylists
Jojoba Oil – Mildly soothing for soft, supple skin and hair
Implementation group
Source: Blackhair 101 for Women
Reference: General
Photo: General

>Source link < Hair care tips from professional hairstylists > Blackhair101.com