Choosing hair color suitable for skin color is always a topic of concern for women, especially dark skinned girls.
Choosing the right hair color is considered a "tough" challenge for dark skinned girls. However, in fact, the team "brown skin" does not know that they own a collection of extreme and diverse hair colors. In this article, Blackhair101 will synthesize all the dyed hair colors to help you highlight dark skin.
Dyed hair colors that are suitable for dark skin
tender chestnut brown
For girls who are first dyed, chestnut brown is a safe choice. This dye is not too bright, suitable for many different skin tones. Chestnut brown brings a fresh and radiant look to your dark skin. This hair color represents the gentle, feminine beauty of Asian women. If you pay attention, you will see chestnut brown is often "promoted" by Asian stars, especially Korean stars.
attractive honey brown
The combination between brown and shiny yellow is "great way" to increase the attractiveness of the hair. This hair color gives a smooth effect to each hair. With this dye, she can unleash her beautiful hair and occupy every spotlight.
shine with brown chocolate
Chocolate brown and dark skin couldn't be a better combination. With a blend of brown and less reddish, this dye helps to accentuate your beautiful skin tone. Moreover, the advantage of this hair color is that it does not dull the skin. Chocolate brown often wins the favor of feminine, gentle girls.
Tips: You can apply chocolate brown color with long, wavy hairstyles to give your hair a bouncy and vibrant effect.
Moss brown trendy color
If you get bored with normal brown hair colors, a moss brown might catch your attention. This is a rather strange and interesting color gamut in brown hair colors. The special feature of this hair color is the magic color change effect. When you walk in the sun, your brown hair color will glow a very fancy moss. The trendy and personality girls will surely be "broken" by this dye.
Outstanding with Sepia Color
Reddish brown color has the ability to create a ruddy effect and full of vitality for the skin and face. This dye isn't too vibrant, but when you get to places with lots of light, you will stand out. The red color in the brown hair makes her more radiant and attracts all eyes.
Tips: When dyeing your hair, mix it with a ratio of brown rather than red. Using too much red color will darken your skin.
gray mouse fur personality
For girls who have a personality and pursue Western style, mouse-haired gray is one of the colors in their "wish list". Most people often think that this dye is only for white skin tones. But in fact, dark-skinned ladies can still shine with this hair color. Mouse hair gray has a deep, cold nuance, so it is still very suitable for brown skin.
Tips: When dyeing this hair color, she should wear nude or deep tones. This makeup style makes you more attractive and attractive.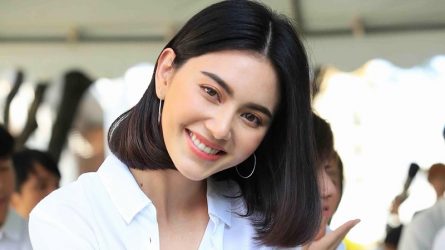 The beautiful hairstyles help you "cut heart" the opposite person
Whether it's short or long, straight or wavy, the hairstyle you choose should partly speak of yourself. With just a few tips, you can …
Sweet pink
When it comes to pink hair, you will definitely think of hair colors for white skin. Coloring pink hair seems to be a distant wish for dark-skinned girls. However, there are still very useful tips to help browns conquer this hair color. If you want to try dyeing pink, choose bright pink tones to avoid darkening your face. Dark pink and dark shades should be avoided. Alternatively, instead of dyeing your whole head pink, you can choose a pink ponytail or a dark hairline combination. This hair color is suitable for many styles, from sports, classic to casual.
How do I KEEP the color of my hair dyed?
Use products specifically designed for dyed hair
Not all shampoos and conditioners are suitable for dyed hair. If you do decide to dye your hair, you should opt for specialized care products.
Product Suggestions: TRESemmé Color Radiance & Repair For Colored Hair, L'Oréal Vitamino Color A-OX.
Too hot water affects the dyed hair color
Hot water bandages can help relax you. However, this habit will make dyed hair dry and dull. You should wash with water that is moderately warm to keep the shine and color of the hair long.
Use hair protection products when styling
When styling your hair with heat-generating tools like straighteners or curlers, you should use heat-resistant hair products.
Product Suggestions: Tresemmé Keratin Smooth.
Implementation group
Lesson: Phuong Khanh
Source: Blackhair 101 for Women
Photo: General

>Source link < Hair color collection for dark skinned ladies > Blackhair101.com