Hair loss, thinning hair in women has always been a topic of concern until now. There are many reasons for hair loss. Only when finding the main cause of hair loss, do women know how to completely overcome to have thicker, stronger hair.
In this article, Blackhair101 has compiled for you the main causes of hair loss in women and some habits and remedies for this situation more thoroughly.
Causes of hair loss
Hair loss caused by hormonal imbalances, during pregnancy or menopause, prolonged stress or nutrient deficiencies are the main causes of hair loss, thinning and sparse hair. However, hair loss is also a symptom of an underlying medical condition. Listen to your body more to know what is the cause to overcome.
Hormonal imbalances
Hormonal changes that cause hair loss such as pregnancy, childbirth, and menopause. Especially, aging make the hormones estrogen and testosterone – causing the "red thread" throughout the body to be affected and greatly determine hair growth. This is the cause of frizzy hair, split ends, gradual breakage and turning gray.
Nutritional deficiencies
Hair nourishment takes a lot of nutrients to have healthy hair. However, in women, it is very easy to become deficient in blood and important nutrients such as zinc, iron, protein due to menstruation, pregnancy, childbirth or inadequate diet. When the nutritional content is inadequate, the hair stem cells are undernourished, lacking vitality, the hair grows weakly and is more prone to loss than usual.
Nutrient deficiencies, particularly vitamin H (Biotin) and vitamin B5 (Pantothenic Acid), are the main ingredients for healthy hair. Hair is only really strong if it is provided with adequate nutrients from the blood vessels inside the body. Therefore, if you want to apply a vegetarian or vegetarian diet, remember to add all of the above nutrients.
side effects of drugs
Hair loss can be a side effect of certain medicines that treat conditions like cancer, arthritis, depression, heart problems, gout and high blood pressure. The effects of some drugs take away the nutrients that nourish the hair, alter hair growth, and cause hair loss.
The scalp is not properly cared for
Most of us have a habit of taking good care of our hair, investing in hair care products such as shampoo, conditioner, steam oil, conditioner … In fact, a healthy scalp is really the premise of a strong hair. The scalp is not exfoliated regularly, not properly cared for, it will cause the pores to be blocked, causing the roots to become blocked, and the hair is not able to grow.
The effects of chemicals & heat when styling hair
Effects such as bending, stretching, dyeing, and styling have become an indispensable part to help women gain more confidence and personality for themselves. However, when styling, hair is subjected to a lot of stress from the chemicals and the thermal effects of the hairdresser greatly affect the lipid and keratin layers in the hair cuticle, causing them to bond. not tight. Gradually, the hair core becomes dry, the hair follicle shrinks and hair loss begins.
Stress can cause hair loss
Stress stimulates the body to secrete Telogen effluvium, which affects hair growth. In addition, Telogen effluvium also adversely affects the immune system, causing loss of control, causing white blood cells to attack hair follicles, causing breakage.
Habit of limiting hair loss
The following are useful methods for you to overcome hair loss and strengthen the hair and scalp healthier and healthier.
Full nutritional supplement
Women can prolong the "longevity" of hair by ensuring a full nutritional regimen and adequate supplement of vitamins and minerals to balance hormones in the body. Outside hair care with products such as shampoos, conditioners, steaming creams, and lotions has only external effects. In fact, 95% of the nutrients absorbed by the hair from the blood nourish the hair under the scalp. Adequate nutrition will play a big role in forming strong, smooth hair, and less breakage.
See your doctor for blood tests and diagnosis of vitamin and mineral deficiencies for a more complete and correct supplement. You can also better support your nutrition with supplements that help replenish your body, but remember not to overdo it!
Do not brush your hair when it is wet
This habit most women often have. When you first wash your hair, the pores are still open, the hair follicles are still wet, and your hair is easily shed. You should dry your hair and wait until it is dry, start brushing. Using a wide tooth comb to brush, gently untangle instead of brushing vigorously can damage the scalp.
Limit your dryer use
Hair dryer is a styling tool, drying hair after bathing according to the habit of some women. In fact, you should not use a blow-dryer to dry your hair regularly, as the radiant heat will weaken your hair, easily dry and break it. It is best to dry your hair with a towel and let it dry naturally. Before using a dryer or any styling machine, use conditioner as a mask to protect hair from the effects of heat.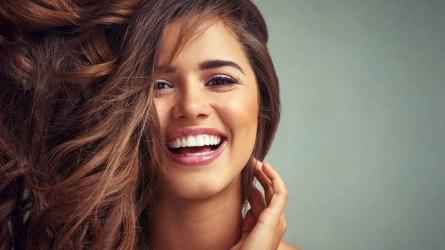 Get rid of the worry of dry hair with 7 of the best hair oils
Hair conditioner is an indispensable beauty product for this winter season.
Change your hair and scalp care habits
Find out and use anti-loss hair cleansing and conditioning products that are suitable for your scalp and hair type.

Before changing your hair such as curling, straightening or dyeing, learn carefully and choose reputable brands in the market.

Avoid using products that are floating, of unknown origin.

Avoid hairstyles with too tight braids, buns, or ponytails.

Avoid dyeing, bleaching, and using high-temperature styling machines. When shampooing, gently massage the oily skin, stimulating blood circulation for fast hair growth.

Prefer to use a wide-tooth comb to brush hair.

Protect hair from ultraviolet rays with a hat, hoodie to protect hair and scalp against aging.

Exfoliate the scalp.

Massage your scalp often.
Limit and control stress
Always keep the spirit of happiness, optimism and comfort. Try to sleep early before 11pm, get enough sleep. Staying up late is also the cause of hair loss. Listening to soft music before going to bed to relax spiritually and make it easier to fall asleep.
Yoga for hair loss
Surprisingly, there are several yoga exercises to treat hair loss. Some yoga poses help increase blood circulation on the scalp, increase oxygen to the brain, including the absorption of nutrients to nourish hair. Yoga also improves the digestive system better, balancing the amount of hormones in the body of women. Regularly practice yoga for a refreshing spirit, healthy body and most of all, a healthy hair !.

>Source link < Hair loss in women: learn the causes and how to fix it > Blackhair101.com