Learn how to create hairstyles from hairstylist from Fall Winter 2018 fashion shows with Blackhair101.
Hairstyles from the fall 2018 fashion catwalk are extremely diverse, from luxurious, traditional to bold and inspirational. This season, split-middle hair, wigs, crab clips, and horizontal bob hairs are outstanding styling styles. It looks like '90s fashion hasn't cooled down this year yet.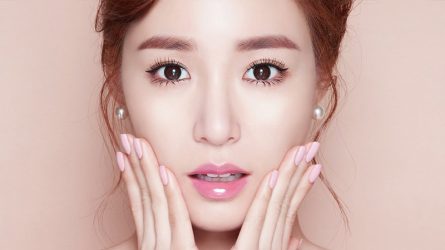 The 5 most natural and gentle shiny chalks for summer 2018
If you think the highlight is only for night parties or special events, then it is because you don't know the full effectiveness of this method.
Prabal Gurung
Anthony Turner styled this simple hairstyle by twisting the ponytail and pinning it up like girls normally do when they have to pull their hair neatly to bathe. The hair accessory used by Turner is the comb, an accessory familiar to the 9x generation.
Brandon Maxwell
At the Brandon Maxwell show, the model's hair was straightened by hair stylist James Pecis, split in the middle and tied a low ponytail behind. This elegant hairstyle never seems to go out of date when constantly appearing at fashion shows every year.
Jonathan Simkhai
Hairstylist Odile Gilbert shares: "I was inspired by a choker necklace and wanted to combine it with a hairstyle to give it a go." To create this hairstyle, Gilbert used a thin elastic band around his neck with hair curled gently at the ends.
Alexander Wang
Hair stylist Guido Palau loves the repetitive trend of fashion. Palau's goal is to bring back a dynamic, powerful style from the 80's. Using hairspray to stroke each strand of hair back, the hairstylist uses a tidy bun.
Jeremy Scott
To have this hairstyle, you will have to invest in a wig. Souleiman straightens his ultraviolet hair with a presser, cuts his bangs short and bobs horizontally to create an astronaut style.
Jason Wu
Hairstylist Holli Smith ruffles the hair slightly at the top of the head, then sprayes with glue to keep the roots in volume. This trick will help keep your hair in shape all day long. The feature of the model hair model at the Fall Fashow Show 2018 by Jason Wu is that the bangs are split and clamped to create a drooping forehead.
Bora Aksu
Fill the ends of your low hair with a velvet ribbon. This extremely feminine hairstyle will make you feel like Lady Blair Waldorf of Upper Manhattan.
Moschino
Inspired by first lady Jackie O, Moschino's model wears a wig with the same color and focus on her eyes, with pink-orange lipstick – a hallmark of the '60s beauty trends.
Jil Sander
By using a lot of gel in her hair, the stylist Souleiman held the model's braids upright, sideways. The special feature of this hair is that the roots are folded and tied before braiding the ends.
Pucci
Each model in the Pucci fashion show is parted to one side and curled her hair into her forehead. The gently curled ends are natural and elegant.
See more:
Update 6 makeup trends will "take the throne" in summer 2018
Impressive beauty trends at Paris Haute Couture Thu 2018
Implementation group
Lesson: Thục Linh
Source: Blackhair 101 for Women
Reference: Blackhair101
Photo: General

>Source link < Hair styling trends from the Fall Winter 2018 fashion catwalk > Blackhair101.com