What color hair dye to make the skin whiter and for a sharper face?
Not only the new accessories highlight the young and beautiful look of girls, beautiful hair is also the point to help you exude an irresistible charm. Most especially, choosing a suitable hair color also helps to enhance your natural white and pink skin. Typically the female lead Jo Yi Seo (played by Kim Da Mi) in Itaewon class, Her short hairstyle and ombre dyed color are making all fans of Korean movies wobble. This dye seems to be "measured in shoes" for the character Jo Yi Seo. If you also want a dyed hair color that makes your skin brighter, don't miss out on the following Blackhair101 article.
Ombre-dyed hair leads the trend
Referring to stylish and stylish dyed hairstyles, it is impossible to ignore the ombre dyed hairstyle. It can be said that this is the trendy hairstyle that is loved by beauty followers all over the planet. The heroine Jo Yi Seo in Itaewon class – The current hottest drama series is the brightest testament to the appeal of this dyed hair color.
In addition to her temperament, the actress also makes fans "fall in love" with her trendy hair. The delicate combination of short hair, dyed ombre black – gray gold has brought out her radiant white face. Undeniably, ombre hair color is the "key" to help her arouse a youthful and dynamic beauty.
In addition, Blackhair101 would like to introduce you to other trendy hair colors suitable for Asian women.
Feminine chestnut brown hair color not outdated
At any time, chestnut brown hair color is still a favorite trend of women. This is not only the hair color that is suitable for all skin tones, but also has a gentle beauty. Thereby creating a sympathy for the opposite person, while also increasing the attractiveness. In addition, combining short hair with chestnut brown is also a way to help girls "hack the age" miraculously.
After the female lead's prominence, Park Seo Joon's first love also made fans fidgety. Because of her pure beauty along with short feminine chestnut brown hair, she turned into a beautiful young girl in her twenties.
Brings classic beauty from black hair
There are many opinions that black hair is outdated and out of fashion. However, black hairstyles always carry a very special beauty with many different styles. Black hair is a great choice for girls who want to have a gentle beauty that does not stand out. Black hair style not only helps to brighten the skin but also gives a special charm to women. With this hair, you can freely change your own styles according to your wishes. Black hair will bring an elegant beauty to you.
Fashionable with western brown color
In recent years, the tan-brown tones take the throne and become a trend in the beauty community. If you love the style of a western girl, you cannot miss this brown hairstyle. This is the hair color suitable for all skin tones and all hairstyles. If you want to transform into a more trendy and edgy version, do not hesitate to try this dye.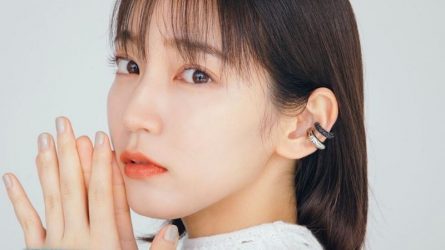 The secret to being younger than the real age thanks to the simple short Japanese hairstyle
Out of countless ideas about hairstyles, short hair is definitely the perfect choice to help you "hack" the magic age.
Impressive reddish-brown color and shine
Compared to the trendy western brown, the sepia shade is also the perfect suggestion for a girl who likes to stand out. Similarly, this is also the hair color that exudes a fresh beauty on her face. In the sun, your hair also glows red and makes your skin look whiter.
New and stylish with gray-gray hair color
For girls who like the difference, smoky gray is a great choice. With a new and trendy hair color, that even more accentuates your youthful dynamism. Remarkably, this color is also very suitable to help brighten the skin and bring youthfulness. With a modern and trendy style, you will definitely become a prominent girl in the crowd. However, for girls with pale white skin should consider before choosing smoky gray. Because this hair color can make you look lifeless.
Implementation group
Lesson: Anh Thu
Source: Blackhair 101 for Women
Photo: General

>Source link < How to choose beautiful hair color like the heroine in the movie Itaewon Class > Blackhair101.com