Long-lasting, shiny dyed hair is no longer a difficult challenge for women if you grasp the following secret "weapon".
As a believer who loves beauty, surely she is no longer a stranger to the name "toner". With these wonderful uses for the skin, toner gradually wins the favor of women. This is considered as an indispensable skin care step for ladies. However, there is another interesting toner concept that few people know about. That is the toner for the hair. This hair care step is still quite unfamiliar to girls. But this is one of the most effective hair treatments, especially for girls with dyed and bleached hair. To help her get acquainted with this new "friend", Blackhair101 invites you to learn the outstanding information of hair toner.
Causes of discolored hair
When it comes to the topic of hair dyeing and bleaching, besides taking care of damaged hair, maintaining hair color is also an important factor that many people are concerned about. After stepping out of the salon with her shiny dyed hair, the girls feel more confident and shine. But only after a while, this beautiful effect disappeared. This is a common condition that most girls often encounter. Causes of this phenomenon include external factors and mistakes in hair care. Here are some of the main reasons why hair color fades quickly:
Environmental pollution.

Sunshine.

Excessive heat from the hair styling tools.

Bath water temperature is too high.

For girls who often go swimming, bleach in the lake water is also the agent that causes hair to fade.
"Unlock" the concept of hair toner
Hair toner, also known as hair balancing water, is like the "magic" for hair dyed and bleached. These specialized hair conditioner lines neutralize dyes and bleached hair colors. As a result, the hair color will retain its durability and beauty.
Purple or green shampoo and conditioner both dConsidered as a hair toner:
Purple shampoo works to reduce yellowing and neutralize dull redness caused by the oxidation that takes place in dyed hair. In addition, this shampoo line also has the ability to enhance the color intensity of cold tone colors such as blue, gray.
Green Shampoo is suitable for brown and copper tones. Green toners can remove oranges and enhance hair shine.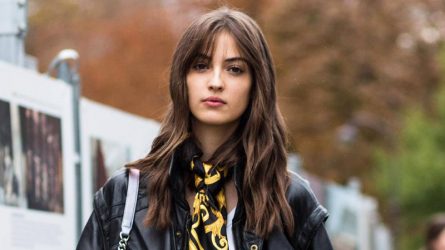 The standard way to create volume for hair at home is the same as in a salon
Let everyone marvel at your lively bouncing hair!
Toner bring effects to the hair?
Adjust dye and bleach color
Bleaching is the process of completely removing your natural hair color. Using toner will help to even out hair color after bleaching. As a result, the dye will become more natural and perfect. In addition, balanced water is also a "savior" in case the dyed hair does not turn up as desired. This product is used to adjust the intensity of dye, so that you can own the desired hair color. You should note that toners are not capable of changing the color of the dye. This conditioner is only able to correct and uniform colors.
Enhances shine and strength for hair
Besides helping to adjust the color of the hair, the toner also "allows" your hair to become more shiny. Commonly formulated in balancing water such as Ionène G ™ and Incell enhance shine without compromising color. By reflecting off natural light, the product creates a glossy effect like "sparkling stream". Moreover, the water balance also acts as a protective layer for hair, preventing harmful agents from the environment and heat. When it comes to taking care of your hair at the salon, hairdressers often use toner to condition your hair. This is why after stepping out of the salon, your hair is always full of vitality.
Is it necessary to go to the salon to add toner?
Usually, after dyeing or bleaching your hair at a salon, the hairdresser applies a layer of toner to your hair. This balm will last for 2-6 weeks. However, if you regularly wash your hair and heat styling, the time will shorten. You can return to the hair salon to add a new balancing layer. Besides, you can still condition toner at home. However, you need to carefully choose a conditioner that suits your hair's needs and carefully read the instructions for use. In the event of severe discoloration, you should seek the help of a professional hairdresser.
Implementation group
Lesson: Phuong Khanh
Source: Blackhair 101 for Women
Photo: General

>Source link < Is toners necessary for dyed and bleached hair? > Blackhair101.com