Useful makeup brushes help her become more and more beautiful.
For girls who are practicing makeup, in addition to easily getting lost in the maze of cosmetics such as cheek powder, eyeshadow, foundation, lipstick, …, there is also a "headache" with makeup tools. The most typical is the selection of makeup brushes. They come in too many sizes and shapes and each brand will have different brush names. Instead of buying a lot of brushes to waste, refer to the 5 basic and essential brushes, helping you to complete the most complete makeup steps.
Stippling Brush
If your skin doesn't have too many blemishes and you prefer a pure, natural makeup look, use the Stippling Brush. The advantage of this foundation brush is that the surface is flat, with soft bristles. Because of that, the Stippling Brush base cream can evenly spread liquid foundation creams. It is the constant and circular movement of the Stippling Brush that will keep your foundation smooth from being "cakey".
Powder Brush
With the hot and humid climate in Vietnam, women's skin is often sensitive to oil spills. No matter how much makeup is done, it will easily be smudged and unsightly. To keep makeup on, you should "ask for help" with the help of powder. A good powder brush will help you coat the powder evenly, absorbing excess oil on your face. At the same time, this brush will create a smooth, matte, more uniform background.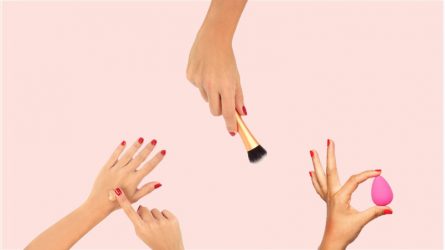 Brush, sucking and fingers: what is the right foundation method for you?
Canopy foundation with a brush, sucking or finger? Which method is right for you?
Angled Face Brush
Angled Face Brush is quite helpful in making your face more angular and slimmer. When applying blusher, bronzer or contour with this lip powder brush, you will achieve the desired natural volume effect. You just need to glide the brush lightly over the cheekbones, eye sockets and spread evenly until satisfied.
Concealer Brush
Concealer brush with small and flat tip, meticulously conceals the blemishes on your face. The small shape allows them to easily reach hidden areas of the face such as the wings of the nose and the corners of the eyes. At the same time, it is possible to conceal small areas of blemishes such as acne spots, freckles spots. This will be an indispensable item if you want a spotless foundation
Eyeshadow Brush
There is an undeniable fact that the brushes included in the eyeshadow palette are usually not of good quality. If you want sharp eyes, you must have a dedicated eye makeup brush. Since the eye area is the most sensitive area on the face, the eyeshadow brush should be of a soft texture. At the same time, to be able to spread the powder gently without damaging this skin area. Eyeshadow brushes should be small in size, easy to pick up and spread.
–
See more:
Be fascinated by the beautiful makeup brushes with beautiful designs "attractive"
Quiz: Discover the right fragrance through your personality
Implementation group
Lesson: lemy
Source: Blackhair 101 for Women
Photo: General

>Source link < List 5 essential makeup brushes that every girl must have > Blackhair101.com