If you are too bored with the beauty style that only revolves around the usual makeup and hair styles, try "F5" yourself with the Spring-Summer 2020 beauty trends shared in this article.
Over the past few years, makeup and hair styles have emphasized simplicity, elegance, but no less outstanding. They are "born" exclusively for ladies with liberal, luxurious and modern personality. Without a doubt, this is the most anticipated beauty trend in Spring-Summer 2020. More notably, this trend has been transformed with just a few simple details, the beauty of Women will be honored in the most exquisitely and subtly.
Make-up: Simple, gentle, yet seductive
If you think that the charm comes from red lips, neat mascara eyes or a face that is sharpened, you will definitely change your mind when you see makeup styles that are about to "make rain to wind "in the near future are mentioned below.
Lip gloss color crowned
Not too strange, lip gloss over the past time has always been the first choice of girls who love natural makeup, helping to highlight the gentle lines of women. But with the spring-summer 2020 beauty trend, owning plump lips, combined with lip gloss, will not only be for "gentle" ladies anymore. This lipstick has been used a lot on the big fashion catwalks and will definitely be a "boom" with beauty lovers around the beginning of 2020.
Cat eyeliner is back
If you feel that the eyeliner styles commonly used on fashion catwalks are not suitable for everyday makeup application, surely the Spring-Summer 2020 beauty trend is what you are looking for. With a style inspired by the 1960s, cat eyeliner is back, making the female eyes sharper and more attractive than ever.
"Makeup like no makeup"
This trend sounds quite unfamiliar to many people. In fact, many major fashion catwalks have applied this beauty style and received a lot of positive feedback. Our face will not have as much color as the usual makeup. Instead, the eyebrows are neatly trimmed, combined with the well-sculpted and shining skin. The foundation is also used very thin and light for the most natural feel possible. Make sure your lips are naturally soft and plump to make this makeup look more prominent and perfect.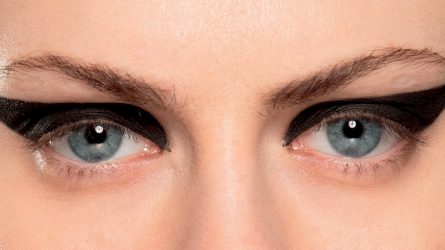 Observe your eyes with beauty trends that honor your personality
With rich artistic qualities or classical aristocracy, natural pristine or impressive visualization; All beauty trends from the Fall – Winter 2019 catwalk are …
Hair styling: Classic hairstyles dominate the beauty world
Pairing with elegant and delicate makeup, it must be a simple, light hair, but not too boring when we know how to combine them with a few accessories. So what hairstyles will become the beauty trends Spring-Summer 2020?
Tied hair braid
This hairstyle is no stranger to beauty lovers, right? With the trend for the first half of this year, a neat hair tied in two braids will surely make many girls "stand still". When the hands are tightened, the braids will have a much smoother and stronger shine. Not only that, any dyed hair color will stand out with this hairstyle. Think about it, a little gentleness in the first days of Spring will help you attract more in the eyes of everyone around you.
Combined with bow tie
This is probably a kind of hair beauty accessory that has been "welcomed" by most beauty lovers during the past time. It is not difficult to see that on the big fashion catwalks, fashion houses often combine bows with many hairstyles. For example, a ponytail or braid that looks a bit monotonous has been further modified with a large bow accessory, making the hair more attractive. With this Spring-Summer 2020 accessory trend, even if you don't have too much time in the morning, our hair remains gentle and outstanding.
Pearl accessories boom
A few clear pearl accents in your hair will make you more luxurious and personal than ever. This type of beauty can be applied in a lot of situations, such as for the most important day in life or a first meeting that needs a strong impression. Use pearls of small size, spread evenly over the hair from top to bottom or in the area next to the hair. You will become much more outstanding and confident when owning simple, neat hair, but no less stylish and extremely seductive.
Implementation group
Lesson: Thanh Truc
Source: Blackhair 101 for Women
Photo: General

>Source link < Pre-empt 6 beauty trends that will dominate Spring-Summer 2020 > Blackhair101.com