Are you looking to do something new at the hair salon without changing your hairstyle? So think about dyeing a new hair color!
The hair color palette ranging from blond to mint green has gradually been easily conquered by beauty followers across Asia in recent years. For girls with personality, the more unique the color tone, the more prominent, the more popular. However, if your fashion and beauty style goes in a gentle and simple direction, keep an eye on brown tones, honey, orange brown … If you haven't found an idea for a new hair color. Please follow a few suggestions from Blackhair101.
Black hair color – traditional and background
Black is the monochrome tone that always leads the Asian beauty trend. It is not natural that long black hair is always associated with the iconic beauty of Asian beauties. This traditional color paste helps to brighten your complexion very effectively. This is also the hair color that is favored by many Korean artists. In the movie, for example Crazy, whySeo Ye Ji has crazy fans with not only her unique personality in acting but also her long, natural and feminine black hair.
A dark hair will help you become feminine, gentle and in the eyes of others, especially for those of you with light skin. You can freely transform yourself with different hair styles without fear of being "framed" in a fixed beauty style.
Feminine and casual with chestnut brown
A chestnut brown hair – whether short or long – is still a great idea for girls who pursue a natural, clear look. This is usually the decision that the majority of girls first step into the path of "changing new colors" for their hair. You do not need to bleach your hair with this dye, thereby reducing many of the potential dangers to your hair. The chestnut brown hair helps to effectively turn on the skin tone, creating a unique feature for those who own them among countless other black hair.
Variations with ombre color palette
In addition, if you are looking for an innovation, then dyeing your hair in an ombre style is the right choice. The way of changing the color of the ombre tone will help you become more personal by mixing a monochrome color with a gradual or fading direction from hairline to tip. With this dyeing style, you do not have to remove the whole head when dyeing. This will minimize the sensation and burning pain caused by scalp damage.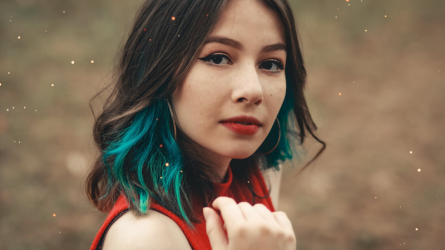 The secret to keeping dyed hair color effective with purple shampoo
You often get headaches when you keep your dyed hair color? Discover how to take care of your hair for longer and shiny dyed hair with the care of …
Red tone – radiant and sharp
The blend of brown and reddish-orange tones creates many distinct hair shades, depending on the individual's mixing ratio. The vibrant red color is a great choice if you want to flatter your skin while retaining your personality and originality. If your skin is not too light, avoid dyeing your hair burgundy as this will make your skin more pale. Meanwhile, reddish brown hair color is considered quite suitable if you have dark skin.
Bright hair color – fresh and dynamic
Bright hair also has a very strong charm to Asian women. With the luck of having a light complexion, signature colors such as smoke tones or platinum are entirely within your options. However, if you decide to choose these colors, you must take regular care to keep the color more durable. At this moment, purple shampoo and specialized color cream are the "assistants: good for you."
If you want a more Western look, try changing yourself with iridescent hair. For this tone, you will have to bleach your hair several times to achieve the color you like best. Learn how to apply bold makeup like Western women when you decide to leave this tone.
personality and rebellious with unique hair color
If the above tones are not satisfied, then experiment with colors that really look great for your hair. Blue, dark green, mint green or purple hair will also give you a unique look. This color hairstyle when combined with bold makeup gives you a personality and an artist look.
Implementation group
Lesson: Nhat Anh
Source: Blackhair 101 for Women
Photo: General

>Source link < The dyed hair colors are exclusively for Asian women > Blackhair101.com