Summer has passed when the yellow leaves are dyed in the trees. When the seasons change, is the tree replacing the leaves a time to change your hair color?
Are you ready to say goodbye to glowing summer hair to prepare for the color of the end of the year to come? Blackhair101 has synthesized dyed hair colors for this Fall with the warmest and most trendy colors.
The hair color is inspired by ginger beer drink
2019 is the year when hair color trends are inspired by snacks such as fruit juice hair color, wine color, smoked marshmallows color … And recently ginger beer hair color, combination warmth of red and orange. This color gamut promises to highlight her face and white skin. With bright and warm colors, ginger beer color is expected to become very popular in the Fall of 2019.
This dyed hair color is perfect for wavy, curly or slightly wavy hair on the ends. For long lasting hair color, you should limit washing your hair every day and use conditioner to make your hair shiny and beautiful.
Balayage dyeing
Balayage dyeing is a dyeing technique inspired by the artist's painting moves. The dyer will divide the hair into layers and brush the dye into different positions from top to bottom. Then blended skillfully again to create natural spills. The light and dark colors blend together to create harmonious and fancy color transitions. Unlike ombre dyeing, balayage does not need to be bleached because balayage tends to create natural patchy hair.
Balayage dye suitable for all hairstyles from straight, curly, short or long hair. Here are some popular balayage dyes for her reference.
Red wine color
The red wine color is not only favorably used in the cosmetic industry such as lipstick, eyeshadow, and nail polish; Now the hair color dyed in red wine will ferociously cause storms in the coming Fall. The deep, warm color gamut because of the combination of red and brown will "drown" all around. Choosing this dyed hair color is a disruptive decision for girls who want to renew themselves in the direction of charm and personality. Furthermore, this dye is suitable for all skin tones.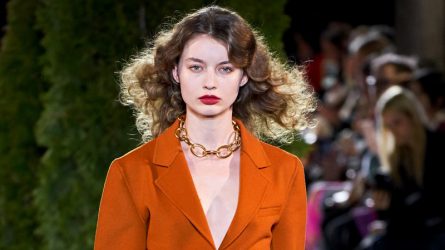 What beautiful hairstyles do you name in Fall 2019?
In the second half of 2019, what hair trends are ladies looking for?
Cherry pink iridescent color
Pour some champagne – glitter pink champagne on the hair stream on an Autumn day is not a bad idea, right? Cherry pink with a little iridescence, also known as coral color, will brighten the inherent skin of women like the trend of pink blond hair before. This dye is suitable for girls who are both gentle but still very personal.
Amber hair color
Amber is an orange-tinged yellow, a mix of warm and cool tones that produces amber – a modern version of the classic honey yellow. The amber hair color suits all skin tones and is also the ideal shade for the colors of the year.
Color "Grilled coconut"
The name for this dye sounds the most popular among the aforementioned dyes. The color of "grilled coconut" is actually copper-brown yellow. The coconut rice is shredded into fibers and then sautéed until golden brown and a bit dark brown. Surely you will love this very new, delicate color with outstanding golden highlights.
Implementation group
Article: Vy Pham
Source: Blackhair 101 for Women
Photo: General

>Source link < The dyed hair colors worth a try in the last 3 months of the year > Blackhair101.com