The ruffled hair gives the girls a seductive beauty and no less personality. However, the process of taking care of this hairstyle is a "challenge" that makes them have a headache.
Healthy, fluffy hair is one of the factors contributing to the seductive beauty and attractive charisma of women. Of all the hairstyles, curly hair is the most favored choice for women. Feminine beauty and elegance are the strengths that help this hairstyle keep the "king" and never become out of date. Curly hair is the "best-seller" model at hair salons. Many girls also wish to have natural curly hair. But few people know that this hairstyle brings a lot of trouble. In which, messy hair is the most headache problem.
For girls with naturally curly or styled hair, it's important to stay shiny and keep it in line. The problem of fluff and tangled will reduce the appeal of this hairstyle. In addition, the risk of fracture will also increase accordingly. In this article, let's go with Blackhair101 to find tips to take care of ruffled hair at home. Especially during the time when she cannot go to the hair salon due to the influence of COVID-19.
Limit washing your hair too many times
The characteristic of curly hair is that it is prone to drying out, leading to a frizz and difficulty getting into the fold. In addition, dry hair is more prone to tangles and breakage. Many people often mistakenly believe that washing your hair several times will keep hair clean and healthy. However, this is quite a wrong thought. Excessive washing takes away the natural oils on the scalp. This causes the curls to gradually dry out. Therefore, you should only wash your hair if it is really dirty. In addition, you should be careful about the temperature of the water. Shampooing with too hot water is also another cause of dry hair. You should set the water to a moderate temperature to avoid damaging your hair.
Ruffled hair also needs to be moisturized
Naturally curly hair tends to get dry because the natural oils from the scalp are unable to fully condition the hair. This is the result of wrinkles and curls. Just like your skin, your dry hair needs to be provided with the moisture it needs. And conditioner is the most popular conditioner. This balm step is used to make curls softer and smoother. This way, your curly hair will become frizzy and frizzy.
However, if you have thin and flat hair, conditioner is not the perfect choice for you. Excess moisturizer makes hair heavy and less fluffy. Instead, a serum is a great alternative. Here is the hair care secret shared by Nicky Khanh Ngoc – Senior Beauty Editor Blackhair 101 for Women. In case you still want to use conditioner, apply the reverse hair washing method. For this method, you'll use the conditioner before the shampoo. This trick helps you moisturize thinning hair while maintaining its volume.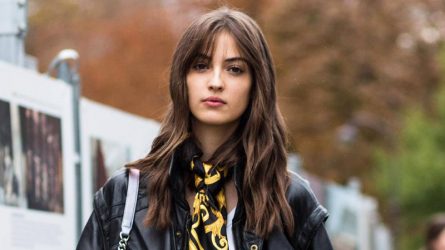 The standard way to create volume for hair at home is the same as in a salon
Let everyone marvel at your lively bouncing hair!
Hair drying technique
Few people know that hair drying also requires you to follow the correct technique. Especially if you have curly hair. This is not as simple as putting the dryer on your hair and drying it. First, you need to adjust the temperature properly. To prevent the curls from being damaged by extreme heat, you should set the heat source to a medium setting. Hair stylist Vernon Francois, who has many years of experience in caring for curly hair, shared the secret to drying hair called "3D". This method ensures all curls are dried and styled without drying or burning hair. Here's how to do the "3D" hairdryer:
Keep the dryer at a 45 degree angle. This angle helps the heat source to disperse evenly on the hair, avoiding burning hair.

Avoid drying the curls too dry. To avoid making this mistake, you should split your hair into sections for drying. Each drying section should not exceed 40-50 seconds.
Do not brush curly hair
Curly hair and comb are two "friends" that don't get along well with each other. When you have frizzy hair, you should avoid brushing your hair. This will make the hair more prone to breakage and break the hair's structure. In the case of tangled hair, you should remove it manually. The best time to brush your hair is when it is still wet. You can use a comb that has wide and wide teeth to avoid falling out.
Choose a hairstyle that suits your hair style
According to her Lien Chi – Secretary of the Editorial of the Blackhair 101, "Living" with a naturally ruffled hair is not as difficult as it seems. It is important in your hair care that you have a clear understanding of the quality of your hair. Possessing slightly lumpy and curly hair, she shared, for a while she chose to straighten her hair. But this solution is not very viable, because the hair is then unnaturally straight and will soon return to the old line.
It would be best if you know how to combine hairstyles that match your unique hair style, while maintaining a proper care regimen. Ruffled hair seems quite "stubborn" to lie still, but the hair can not be better for hairstyles that need volume and volume. Regularly referencing new hair trends is the easiest way to refresh yourself. Or not, get in touch with an experienced hair artist. They will be the ones who understand what your hair needs. Another hair-cleaning tip from Ms. Lien Chi is to wash it with natural herbal shampoo, only use conditioner once or twice a week. While the hair is still slightly damp, apply some conditioner to make it soft and smooth.
The importance of a beautiful hair or an attractive face largely depends on the charisma of the owner. Please love every detail on your body and find ways to reconcile with your inherent "heritage". Wish you find out the tips on how to take care of your unique curly hair, and don't hesitate to share with Blackhair101 your own tips!
Implementation group
Lesson: Phuong Khanh – Sophie
Source: Blackhair 101 for Women
Reference: General
Photo: General

>Source link < The secret to helping her take care of her "cool" ruffled hair > Blackhair101.com