Different from straight hair, curly hair requires more special care.
Whether you have natural curly or curled hair at a salon, it can be difficult to keep them moisturized. Because curly hair is often dry and tangled easily because of the spiral texture of each strand. This texture makes it difficult to distribute the natural oils on the scalp evenly along the hair shaft, so this type of hair tends to be drier than straight hair.
Determine the cause of your dry hair
Moisture is one of the most important things hair needs to grow. With sudden changes, such as going from cool indoor air to sun exposure, your hair will be drier and more brittle than usual. In addition, not being able to go to the barbershop regularly can also make your hair look messy and split ends. Therefore, it is first important to limit the causes of hair dehydration.
Sun exposure can be a cause of dry hair. However, there are many other factors that also contribute to dry hair such as washing too much hair, using chemicals in the hair, sudden changes in air temperature … In particular, styling with heat causes It is very harmful because it directly causes the hairs to lose moisture quickly. A study has shown that temperatures above 203 ° F damage hair, and dryers can heat up to temperatures above 400 ° F. The way you dry your hair after shampooing also contributes to hair damage. Regular use of cotton towels rubs the hair cuticles, making hair more brittle and dry.
How to keep curly hair moisture
Although curly hair is difficult to retain and gets tangled easily, there are ways to fix it. Blackhair101 believes the following moisturizing tips for curly hair will help you stay confident and shine with your hair.
Transform all hairstyles with Thai beauty Baifern Pimchanok
The widescreen 2020 will welcome the return of the couple Mario Maurer and Baifern Pimchanok after 10 years of collaboration in the hit movie …
Moisturize before going to bed
Once you understand the reasons listed above, you can start replenishing lost moisture to your curly hair. The best time to do this is before you sleep. Chris Appleton, hair stylist and ambassador for Color Wow, said: "Only apply conditioner, mask or styling cream at the ends – where hair is most prone to dryness. This will help the scalp not to be greasy and secretive ". Moisturizing your hair at this point is like applying a sleeping mask to your skin. This will replenish moisture and stay smoother while you sleep.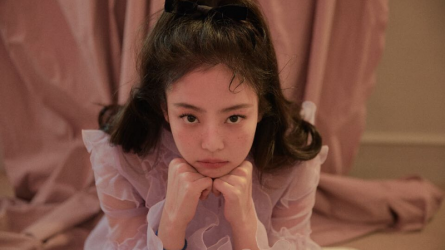 Korean curly hairstyles bring out a gentle and trendy look
In addition to the makeup style like smog, curly hair is a beauty trend that is enthusiastically "promoted" by Korean girls.
Use oils suitable for curly hair
Oil-based products contain refined oils – oils that have been treated to make the composition more stable and remove impurities in it. Refined oily cream is the best choice for adding moisture to curly hair. If your hair is not too thick, you should still use an oily product every day, but only in the right amount so that it does not become sticky. Coconut oil, olive oil and ucuuba butter are all ideal moisturizers for curly hair. They can penetrate hair fibers to hydrate from the inside, while others like castor oil help retain moisture from the outside.
In some cases, the epidermis becomes damaged by dryness. You need to take care of the cuticles by using the right oil-containing products. That will help moisturize the hair because the oil creates a "seal" layer of moisture on the hair cuticle.
Choose a conditioner for curly hair
The conditioner is sometimes difficult to use on curly hair. It works really well on lighter curls than big curls. Look for sprays with ingredients like glycerin, water, or oils that quickly penetrate your hair. These nutrients will provide moisture deep inside the hair strand, while also making the outer curls softer and more fluffy.
You should only spray the conditioner directly on dry areas and split them in small sections at the same time, rather than all over your hair and scalp. If you have thinner hair, you should spray the conditioner on your hands and apply it to the ends of your hair, then rub the curls upwards to help them stay in line and vibrant. Although this is a product to be used between shampoo days, you still need to wet your hair before using it. Let the hair dry naturally, do not touch or mess it as this will cause frizz.
Create lovely and trendy hairstyles from Korean star models
The simple or sophisticated, cute or trendy hairstyles of Korean female stars have "cut your heart"? Let's learn how to style the following Blackhair101 to …
Moisturize the curls regularly
Try to maintain a regular moisturizing rate for curly hair, even if you don't feel it is necessary. Curly hairstyles have to be hydrated daily, while lighter curls can be every few days a week. The frequency of adding moisture depends on the texture and characteristics of the hair. Straight hair holds oily hair longer than curly hair, so it can be moisturized in the ends every other day. For curly hair, daily moisturize all hair.
Implementation group
Post: Xuan Thu
Source: Blackhair 101 for Women
Reference: Allure
Photo: General

Source link < The secret to moisturizing curly hair between shampoos > Blackhair101.com