Youthful looks, personality and diverse variations are the factors that make the fringe hairstyle attractive. In 2020, let's welcome the return of the cult haircut once.
"It's never too late to own yourself a fringe hairstyle" – hairstylist for celebrity Mark Townsend shares. Fringe is favorably nicknamed "the hairstyle that never goes out of style". This hairstyle gives women a youthful, feminine look but no less outrageous. Besides, fringe possesses a variety of variations, suitable for all faces. All of the above factors have helped this beautiful hairstyle to maintain its favor in the hearts of ladies.
Recently, model Bella Hadid showed off her fringe hair on an Instagram post, marking the return of this cult hairstyle. To catch up with the trend, we invite you to join Blackhair101 to explore the collection of unique variations of fringe haircut. Choose for yourself a hairstyle that suits and shines your beauty.
METHOD WITH Micro-Fringe Hairstyles
This is a very unique short bangs fringe. The bangs of this hairstyle are usually cut quite "messy" and have a short length above the eyebrows. Micro-fringe is considered to be bold retro style. Since its debut by Bettie Page and Audrey Hepburn, micro-fringe has steadily proven its appeal. This is the hairstyle especially favored by trendy IT girls. This styling method is suitable for all hair lengths and textures. Whether you have long or short hair, you can still cut this fringe. On the red carpet at the 2018 Vanity Fair Awards, actress Emma Watson made her impressive fringe hair appearance for the first time.
Tae Yeon has also tried her hand with a unique and unique micro-fringe hairstyle.
Wispy Fringe FOR SURFACE AND SQUARE SQUARE
Wispy fringe is a hairstyle of long thin bangs that is favored by long-faced girls. Long bangs are used to conceal the forehead area, helping your face become more balanced and harmonious. The advantage of this hairstyle is that you do not have to spend too much time and effort to maintain. This is a great choice for busy girls who do not have much time to visit hair salons regularly. This is also the hairstyle that Bella Hadid showed off on Instagram. Wispy fringe gives Bella a personality look, while at the same time softening the angular lines on her face.
If you have a perpendicular face, you can cut thicker roofs and embrace your cheeks. This is the hairstyle that singer Jennifer Lopez loves.
Curtain Fringe Hairstyle
Curtain fringe is the name of a hairstyle with bangs that are split on the sides of the face. This hairstyle became very popular in 1970. And until now, curtain fringe still maintains its form. Curtain fringe is especially suitable for girls with square and round faces. This hairstyle has the ability to turn your face longer, into an oval face. Curtain fringe is the favorite hairstyle of singer Camila Cabello.
Unlike wispy fringe, this hairstyle requires a more complicated hair care process. Since the bangs are parted, it takes time for the hair to get used to the line. In addition, for your bangs to have a fluffy appearance, you need the assistance of a styler and specialized products.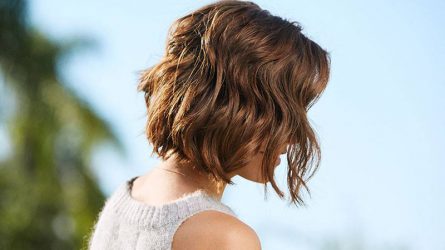 The hair will shine in 2020
When you have beautiful hair, it will be the invisible motivation to help you gain more confidence and strength. This article will introduce the latest hairstyles trends …
Side Fringe Hairstyles
Back in the 2000-2005 period, side fringe was one of the dominant hairstyles in the hair model industry. And in 2020, this hairstyle promises to return and once again create a fever. If you are tired of your mid-part hair, side fringe is a new choice for you. The hairstyle will give her a more youthful and feminine appearance. This hair model is suitable for straight and wavy hair textures. To style, you just need to use your fingers to gently brush the bangs, combined with the hair dryer. To add more emphasis, you can use a round brush to give the ends of the hair a slight curl.
Implementation group
Lesson: Phuong Khanh
Source: Blackhair 101 for Women
Reference: Refinery29
Photo: General

>Source link < The year 2020 welcomes the return of the beautiful Fringe hairstyle > Blackhair101.com