What hairstyle are the girls choosing to dress up on Christmas Eve?
Christmas atmosphere was jubilantly filled everywhere. Surely the girls have prepared for themselves lovely clothes or chosen outstanding makeup to apply for this Christmas night, right? That alone is not enough, let Blackhair101 suggesting a beautiful hairstyle will definitely help you "shine" the most in the party today.
Hair in the shape of a pine tree
Girls who love hair and makeup, this is definitely an opportunity for them to unleash their "passion". Walking around Instagram in recent days, it is not difficult to see the image of a hair "standing up" in the shape of a pine tree. They are combined with filaments and pearls, glitter … Try using this beauty style this Christmas season, surely this hair will help us become the "focus" of everyone. crowd. But how to do this hairstyle?
Doing
Do not worry too much when thinking that they will be difficult to do, in fact just prepare 1 bottle of water, 1 bottle of hairspray, elastic, toothpickers and finally all kinds of filament, pearls, glitter … depending at will for decoration. Now let's get to work.
Step 1: Fix the hair
If you have long hair, this hairstyle is for you. First let's brush our hair evenly, then place the water bottle on top of the oil and begin to press the hair against the bottle in an upright direction.
Try to be evenly smooth and use elastic to tie the ends of hair. During the procedure, if your child's hair falls out too much, use hair spray to fix them neatly. One secret to making this process easier is to use water-based glues that are applied evenly to the hair to help your baby's hair become tidy.
Step 2: Conduct decoration
This is a step for you to unleash your creativity. This décor has no limits on details, but be mindful of the weight of the products. We put on the filament, pearls, star sticker … so that we feel most comfortable and confident in the party.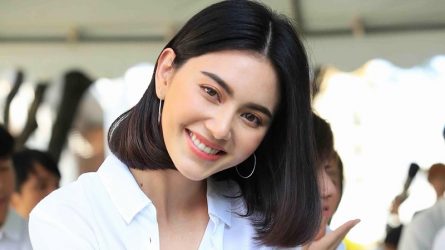 The beautiful hairstyles help you "cut heart" the opposite person
Whether it's short or long, straight or wavy, the hairstyle you choose should partly speak of yourself. With just a few tips, you can …
Notes when doing the "pine" hairstyle
Although this hairstyle is easy to do to help you stand out the most on Christmas Eve, there are some notes for this beauty style. The first is the bottle on top, they must be a bottle that does not contain water. This not only prevents the head and neck from being too heavy, but the curls are also fixed more firmly. Also, choose bottles with compact shapes and transparent colors to limit the exposure of the bottle to the outside.
Next are the decorative items. As mentioned above, this is the place to be creative. However, you should not put too many things on your hair so as not to cause eye disturbance and heavy head and neck. At the same time when attaching devices such as filament, you should also pay attention to the temperature emitted by the lamp, if they are too hot it can damage the hair.
We should use heat-limiting conditioner sprays on the hair before doing this beauty style to limit heat as well as glue, heat … that affect too much hair. This style of beauty can also be applied to babies from 5-10 years old this Christmas. Do not hesitate to apply this hairstyle for this year's Christmas party, you will surely become extremely outstanding and attract everyone's eyes around.
Implementation group
Lesson: Thanh Truc
Source: Blackhair 101 for Women
Photo: General

>Source link < Transformed into "Christmas tree" on Christmas Eve with the beauty trend on Instagram > Blackhair101.com