Hairstyles for long-faced people will help you shine and become more attractive.
A beautiful hair will increase the overall look of a woman. And choosing the right hair for your face will help you conceal your flaws and become more attractive. Surely the girls with long faces lack confidence when they cannot choose a hairstyle that suits them. Do not worry, Blackhair101 will transform with her with beautiful hairstyles to help her become the focus of all glances.
Curled shoulder-length hair – beautiful hairstyle "hides the divine age"
Shoulder-length curls are a great idea for girls with long faces. The advantage of this hairstyle is to help harmonize the face and increase femininity.
If you are a girl with a long face, want to change hairstyles but still hesitate, you should not ignore this hairstyle. Because this is a hairstyle that does not need to be sophisticated in the way of hair care. Also, you will look younger than your real age, this is the "magic age hiding" way. Many Korean stars make young people fall in love with this non-stop hot hairstyle.
Stylish with short wavy hair and thin bangs
It can be said that this beautiful and trendy hairstyle is "making a storm" and is loved by young people with youthful and dynamic features. Light ripples in combination with staining are definitely a great choice for a more harmonious and beautiful face.
If you have a long face, you should not miss the opportunity to experience the new and attractive style of this hair. For a more youthful look, they can combine hairstyles with dyed tones such as golden brown, purple red, chestnut or stylish colors like platinum, smoke.
Horizontal bangs combined with curls at the tail are equally attractive
The long forehead is really a weakness that makes girls not confident about their looks. So, you can combine curls in the tail with horizontal bangs to make your face rounder.
You cut the horizontal roof, about two rows of eyebrows long. This point helps to conceal the forehead, increasing the harmony on the face. This hairstyle is the perfect idea suitable for work, outings and even dating.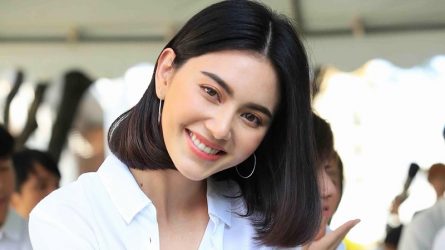 The beautiful hairstyles help you "cut heart" the opposite person
Whether it's short or long, straight or wavy, the hairstyle you choose should partly speak of yourself. With just a few tips, you can …
Bring personality from bob hairstyle
Bob hairstyle is becoming a popular trend of women today. A bob is a haircut that is about the length of the jawline. For variations on your hair, you can curl the ends around your face or gently trim them. With this hairstyle exudes a style of a proud lady.
This is a trendy, youthful hair model for long-faced girls. Combined with tones like smoky gray will help you really shine and stand out from the crowd.
Increase charm with straight hair pattern
If you're into the traditional look, then naturally straight hair will make you shine with confidence. This is a hair model that is not fussy and dynamic as other hair models. However, this style is chosen by many people. Because the advantages of this hair exude the simplicity and grace of every girl.
And this is the "savior" for girls with long faces. Straight hair is not only suitable for a long face but also enhances the beauty that "cuts the heart" of the opposite person at first sight. Moreover, with this simple hairstyle, you do not need to spend a lot of care time, but your hair is always neat and shiny. You just need to brush your hair lightly before going out to work or going to work, and you will be outstanding and radiant.
Implementation group
Lesson: Little Pea
Source: Blackhair 101 for Women
Photo: General

>Source link < Variation of beautiful hairstyles for long-faced girls > Blackhair101.com