In addition to the gorgeous outfits on the red carpet at the Oscars, the beauties also attracted attention for their outstanding makeup and hair styling.
The Oscars 2020 ceremony not only stops at the "race" to reach the golden statue of fame, but also is the place for beauty trends to take the throne. Let's Blackhair101 Take a look at the most unique makeup and hair styling styles on the red carpet on February 9.
Lucy Boynton
In addition to her chic white-black outfit, Lucy scored with red lips and Twiggy-esque lashes at the 92nd Academy Awards. Moreover, Lucy Boynton also created a highlight for her hair. with pearl accessories. This perfect combination accentuates her charming and noble appearance.
Greta Gerwig
Next to her olive-green Dior Haute Couture dress, Greta appeared gorgeous with French blond hair created by renowned hairstylist TRESemmé John D. Also, the highlight that made her stand out even more was thanks to the way eye makeup. She uses tur-son-tur olive-colored eyeshadow with a costume color and accessories on her neck, attracting a lot of media attention.
America Ferrera
Actress America Ferrera also attracted a lot of attention when appearing with the beauty that did not mix with anyone. Thanks to the help of hairstylist Aviva Perea, the "powerful" straight hairstyle brought her unique beauty on the red carpet. In addition to the crimson dress and attractive black hair, dark eye makeup is also a point to help her attract more.
Billie Eilish
When the singer Billie Eilish just appeared, the Oscar ceremony 2020 ceremony lit up. Her unique beauty and personality has attracted much attention from the media.
With a striking blue hairstyle combined with Chanel accessories on the back, it is enough to attract attention from around. In terms of makeup, she chose gentle nude tones for her face to highlight her personality style.
Kaitlyn Dever
In addition to the shimmering Louis Vuitton dress, Kaitlyn Dever has combined a pair of cat eyes to impress on the Oscar 2020 red carpet. With a light and accent style of makeup in the eyes combined with natural flattened hair. She is extremely beautiful.
Caitriona Balfe
It is not only the splendid outfits that make Caitriona Balfe stand out. A bright red lipstick helped Caitriona Balfe shine immediately at the 92nd Academy Awards. She chose a luxurious makeup style with red on her lips, thick and black lashes, and emphasized a little highlight. to brighten her face. The perfect combination between luxurious bun hairstyle and attractive red lips is enough to make her shimmer.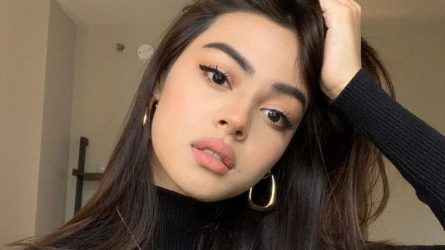 1001 ways to apply lipstick for each lip shape
The luscious lips are a powerful weapon to help women "cut the heart" of the opposite person.
Margot Robbie
At this year's event, in addition to the classic Chanel dress, Margot Robbie was also created by famous hairstylist Moroccanoil Bryce Scarlett with an ancient Hollywood style hairstyle. In addition, the star Bombshell also gets the help of a makeup artist to highlight the look from Chanel Rouge Allure Velvet Extreme color 112 Idéal. With a few highlights on her lips, it was enough to enhance her inherent beauty perfectly.
Lily Aldridge
It seems that the classic trend of make-up and hairdo is always favored by famous stars. Thanks to the help of makeup artist Carolina Gonzalez, beauty Lily Aldridge appeared in the glamor of ancient Hollywood. It can be said that the red lipstick and bright skin combined with the simple middle parting hair increase her charming beauty.
Implementation group
Lesson: Little Pea
Source: Blackhair 101 for Women
Photo: Getty Images

>Source link < What beauty trends are dominating the Oscar 2020 red carpet? > Blackhair101.com