Do you choose the haircut to hang out with him on Valentine's Day?
In addition to the gorgeous dresses, a beautiful hair also accentuates the woman's charm. Therefore, choosing the hairstyle suitable for the outfit on the body has become a great concern of women. Especially on this Valentine's Day, an attractive appearance cannot be better for girls. And the following, Blackhair101 will reveal Valentine's Day hairstyles to help you become more radiant.
Romance with French braids
This is definitely a perfect suggestion for luxurious and noble girls. Do not hesitate to transform yourself into a French girl with bold classic charm.
At first glance, it seems to be a rather elaborate hairstyle. However, it only takes a few minutes with simple steps, you have got the desired hair. Because in this braided hairstyle, you do not necessarily have to put your hair in neat lines. Natural tangled hair will increase the attractiveness and sexiness. Plus, a bit of tangling in your bangs is also a great idea.
To be able to score points in his eyes, you can combine this hairstyle with a shirt or trendy dresses.
Feminine half-hair
If you don't want to spend a lot of time creating elaborate hairstyles, then this hairstyle will be the divine solution for the upcoming Valentine's Day. This style seems quite simple, in a flash you can transform into a radiant new version like Suzy.
With this hairstyle, you can transform your hairstyle into many different ways. You take a little bit of hair above or from the sides of your ears and fix it behind. Pearl stone clips are also a great choice to create an accent that adds to the charm.
If you subtly combine the turban scarf on your hair, you will become more attractive with gentle and elegant beauty.
Frizzly no less sexy
Compared to hairstyles that take a lot of work, busy girls will surely love the gentle waves. Because it only takes a few minutes, you can create a curl with a curling iron at home. Whether long or short, this hairstyle still gives you a sexy, attractive look.
In addition, the bounce of the hair will make you look more attractive and lovely. Undeniably, this is a simple hairstyle but very suitable for a romantic date night.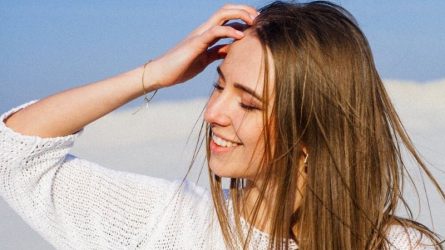 Revealing how to maintain healthy and beautiful hair from nature
Whether your hair is dry, damaged, oily or simply needs extra care, you can revitalize your hair with masking …
Attracted from simple tied hairstyles
Do you want to be a trendy lady or a personality from the following hairstyles?
Valentine's Day Hairstyles – Hair in a ponytail with ribbon
It seems that this hairstyle is both simple and brings a look that attracts "heartbreak" of the opposite person. Surely, this hairstyle will be favored by girls with gentle styles. With a hairstyle tied lightly with ribbon, it shines enough on Valentine's night.
Furthermore, this style is suitable for both short and long hair. To transform this hair, you use a ribbon to fix the hair at the back of the nape. However, make sure to use a hair gel before the procedure to give it a smooth shine.
Hair tied high personality
For girls who love personality and dynamic styles, a ponytail will be the perfect choice. This is the style that you often see in singer Ariana Grande. This hairstyle variation is very simple, but your hair should be long and soft.
You just need to tie the hair very high, take a little bit of hair around the elastic. Then, use it again with a toothpick. This will be a "divine" hairstyle that both brings a personality style and creates an enchanting charm to people.
Implementation group
Lesson: Little Pea
Source: Blackhair 101 for Women
Photo: General

>Source link < Which Valentine's Day hairstyles make you attractive? > Blackhair101.com